Pub Crawl and Bar Clubs
The Original BUDAPEST
Pub Crawl
The Original Budapest Pub Crawl is one of a kind! Here you can explore some of Budapest's best bars and clubs, but it's much more than that — you'll also get to enjoy everything the Budapest nightlife has to offer, with travellers from all over the world.
Get to know each other with a one hour of FREE DRINKS, bar games, and great guides!
With the Original Budapest Pub Crawl, you'll experience the most vibrant and craziest nightlife Budapest has, while meeting locals and travellers who are also out for a good time! Taste not just the famous national spirit also known as Palinka but a lot of free drinks and more in the most famous district of Budapest.
NEED TO KNOW THE BEST PLACE TO PARTY? DON'T WORRY WE HAVE IT COVERED.
Come hang out with us, as we find our way into some trouble, crawling around the city from one bar to the next — all with different specials and themes. From Budapest's famous ruin bars to the best clubs in Budapest — we are here to have fun!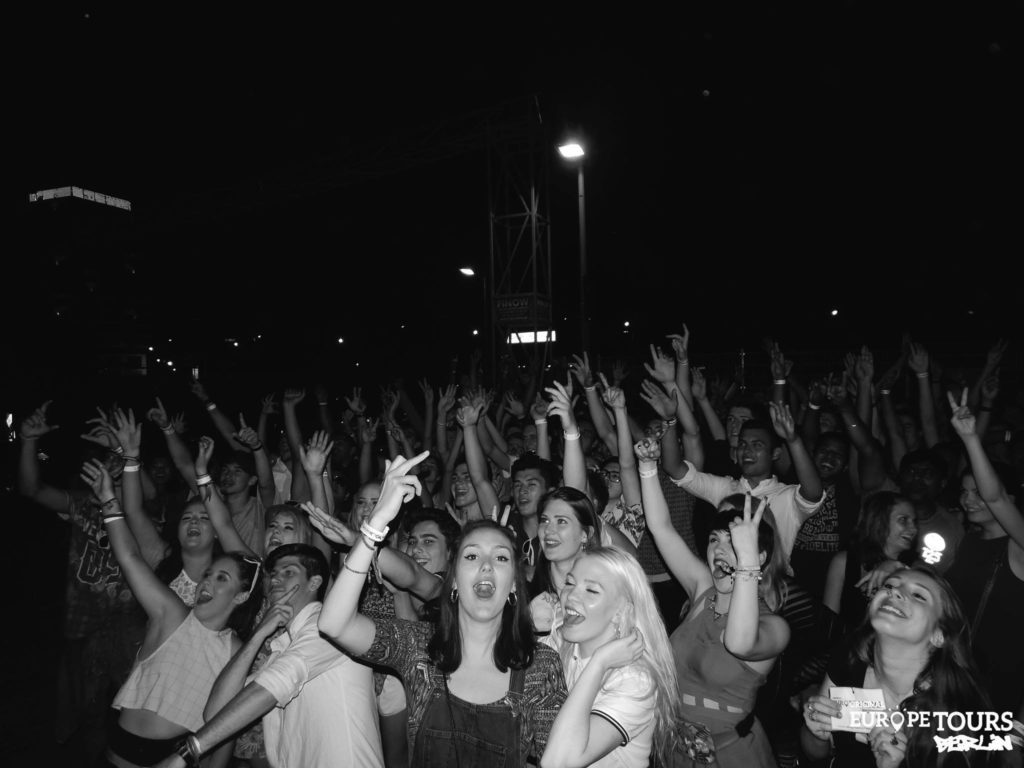 TOUR DETAILS
When:

 
Every night at 21:30
Where: Wombats Hostel Bar, Kiraly u. 20, 1061 Budapest
ADDITIONAL INFORMATION
Guests must be 18+ and carry photo ID
An AB transit ticket may be required
Responsible drinking is encouraged. We reserve the right to dismiss disrespectful guests from the crawl if necessary without refund
Drink specials are subject to the venue visited
WHAT TO EXPECT
1-hour FREE open bar drinks
Olympic drink games
VIP Club Entry
Drink Specials
4+ Cool Ruin bars and clubs
THE ORIGINAL BUDAPEST PUB CRAWL:
This guided tour meets at Wombats Hostel Bar, where we will warm up for a drink and get to know everyone. We'll then make our way to Budapest's #1 Party Bar where the open bar will start, and we'll put an hour up on the free drinking clock! This Original Budapest Pub Crawl also features the Ultimate Olympic Drinking Games and Budapest's very own Jӓger train! Check out the video below to see this bad boy in action!
Along the way, we stop for drinks at a range of venues throughout the night, including cocktail bars, electro lounges, and of course famous Ruin bars, where we open up the bar for free drinks for an hour! After the bars, we will take you straight into one of Budapest's biggest clubs. Our informative and fun guides will show you the side of Budapest you won't find in your guidebooks.
Excellent Experience
Enjoy complimentary shots and drinks specials (subject to the venue visited) throughout the night.
Terrific Tour Guide
Follow your local nightlife guide as you crawl from one location to the next 
Authentic Nightlife
Four venues + skip the line with VIP club entry and dance until sunrise and end in one's of Budapest' biggest clubs.
Instant Support
Pub-crawling gives rise to queries, concerns, and doubts; so we make sure that we're always here to put your mind at ease
THE ORIGINAL
BUDAPEST PUB CRAWL
For group booking or question, please email

info@originalbudapesttours.com

 
Participants must legally be over 18 years of age. Be Original Tours encourage responsible drinking and safety from all participants.
Some clubs don't allow sandals or tank tops for guys.